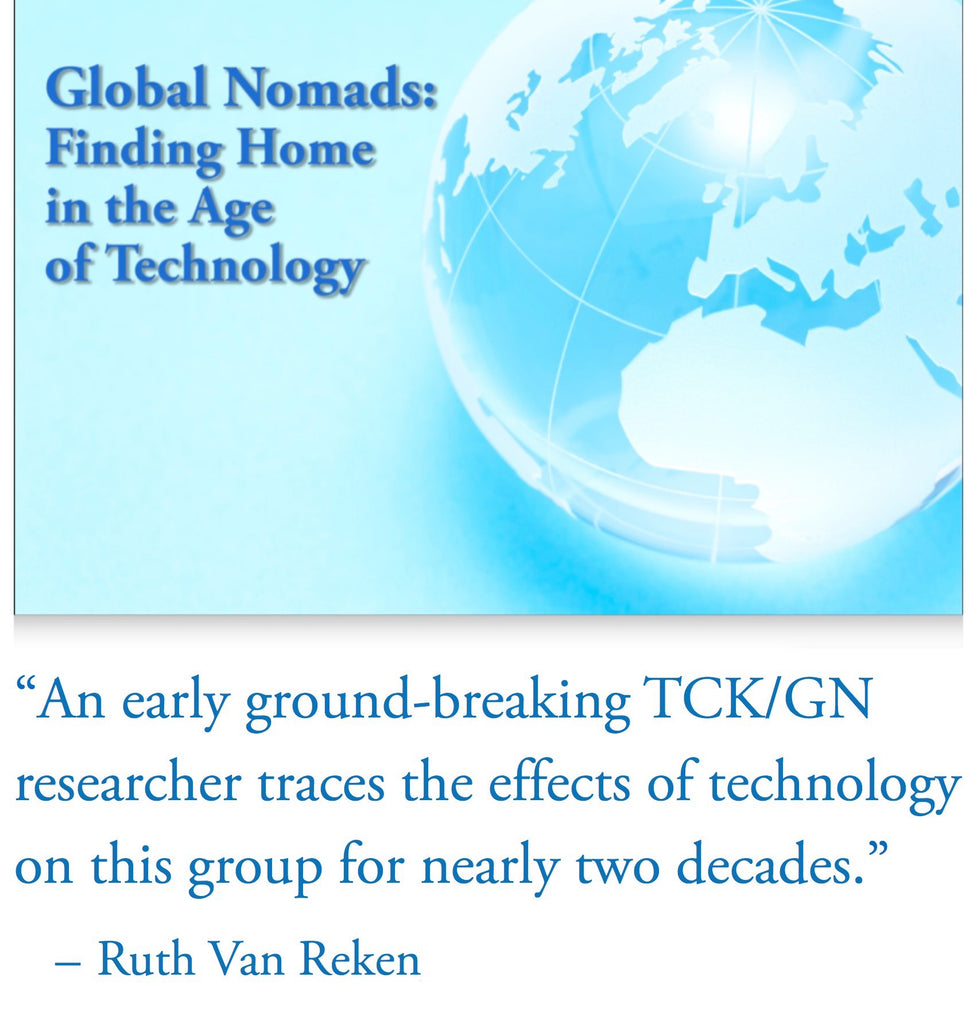 Global Nomads: Finding Home in the Age of Technology (2018 Wu & Clark)
"Alice Wu has produced a fascinating look at TCK realities and the impact of technology over time… what emerges are some of the timeless challenges and benefits of growing up in the 'between' of third-culture."
-Michael Pollock
How has technology impacted the Global Nomad experience? Global Nomads: Finding Home in the Age of Technology looks at the global nomad experience over the past 20 years and includes student interviews from 1994, 2001, and 2014.  Building on the interviews in its predecessor Global Nomads: Cultural Bridges for the New Millennium (2001), this new video illustrates the impact of technology and social media over time. 
Students first share their experiences in 1994 before the advent of social media, and then in 2001, and 2014, providing a window into their use of newly developing technology and social media. Topics include connecting with family and friends, maintaining friendships, making the transition to college, the benefits and challenges of technology, and where students consider home.
Finding Home in the Age of Technology also includes information about being a global nomad and Third Culture Kid (TCK), from experts in the field (David Pollock, Norma McCaig, Barbara Schaetti, Bruce La Brack) who participated in a video conference using the first video conferencing software for Mac computers, CU-SeeMe.
The Global Nomad series has been used for student orientations, professional trainings, university departments and faculty at institutions across the United States, as well as at international schools in Europe, Asia, South America, and Africa.
"Alice Wu has produced a fascinating look at TCK realities and the impact of technology over time. What emerges are some of the timeless challenges and benefits of growing up in the 'between' of third-culture and how the tech explosion has solved some difficult aspects of a mobile and cross cultural life while compounding others. This is more than just TCK fodder, this is humanity working to resolve its basic needs at the crossroads of global mobility and advanced technology."
-Michael Pollock, co-author, Third Culture Kids: The Experience of Growing Up Among Worlds
"At last! The first well-documented narrative with answers to the questions many ask. 'In today's technological world, how has the experience of Third Culture Kids (TCKs)/Global Nomad(GNs) changed from the past? In fact, has discussion about this population become moot since they can now stay well-connected to their past?'

An early ground breaking TCK/GN researcher, Alice Wu, traces the effects of technology on this group for nearly two decades by comparing her earliest interviews with them in 1994 to new interviews done in 2001 and 2014. As expected, those interviewed more recently celebrate their capacity to stay in touch with friends around the world, in ways that were impossible in 1994. But they also caution us how staying in touch with the past alone can interfere with making friends in new places. And in the end, for all the benefits of technology, many of the traditional questions still remain— 'Where is home? Where do I fully belong?'— with some interesting new twists on their answers. Yet, as with their predecessors, these students are quick to celebrate the richness of an internationally mobile childhood.

I definitely recommend this video as a must-see for all who are interested in this topic, both researchers and families currently living this lifestyle and wondering how to maximize its potential for their children. "
-Ruth E. Van Reken, co-author, Third Culture Kids: The Experience of Growing Up Among Worlds