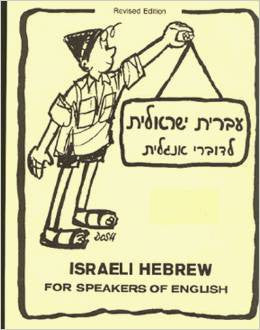 Hebrew - Israeli Hebrew for Speakers of English Audio Supplement - Book 2
Audio recordings to accompany the text
Israeli Hebrew for Speakers of English
By Peter Cole
Urbana, IL: Duben Books, 1979

Sample Audio:
The Hebrew Textbook Series for Adults
The Israeli Hebrew textbooks are widely used in colleges, universities and adult education. We like our books because we are very careful to present new vocabulary and grammar in a very systematic way. Nothing is introduced before it is taught! We believe that it is easier for adults to learn a language when grammar and vocabulary are presented in this way, but no other Hebrew textbook series that we know of does this. 
The textbook series was designed by a group of linguists and Hebrew teachers at the University of Illinois. Although Amazon warns that it may take 4 to 6 weeks to deliver, in fact we ship most orders the same day we get payment. The series consists of three textbooks (Book 1, Book 2 and Book 3) and a workbook designed to teach the Hebrew alphabet (Intro Hebrew Alphabet).